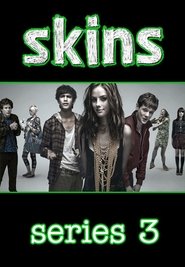 Skins Season 3 Episode 2
It's Cook's (Jack O'Connell) 17th birthday, and half the college have been invited to his uncle's pub to witness a night Cook believes will go down in history. The girls get are about to leave when Freddie (Luke Pasqualino) gets a phone call from his sister Karen (Klariza Clayton). She's at her best friend Kayleigh's (Amy Burnett) engagement party and they want to get the party started. The gang head off uninvited.
Cook attracts the attention of Kayleigh's dad, notorious local gangster Johnny White (Mackenzie Crook). The party is a timid affair, so – ignoring Freddie's warnings about Johnny White – Cook decides to do as the Cookie monster does and up the tempo, and the evening takes a turn for the worst. The gang manage to escape, but split up afterwards after Cook tries to come onto the girls. Freddie tells him he is tired of looking after him and leaves Cook and JJ to go to a local stripclub/prostitute agency, where JJ refuses to go further than kissing and Cook overhears Johnny White in the next room. He plans to blackmail him, and the gangster antagonises him until JJ has to forcibly restrain Cook from beating him. Cook realises what he's done when Johhny tells him: "The next time I see you…you're dead." He leaves and ends up outside Freddie's house at six in the morning, and the two share an intense heart-to-heart about their friendship, while Freddie agrees to look after him again.
Episode Title: Cook
Air Date: 2009-01-29
Year: 2009