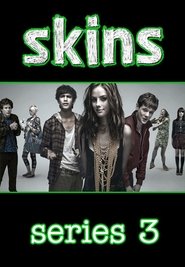 Skins Season 3 Episode 7
JJ's (Ollie Barbieri ) feeling lost and confused. The upset within the gang has taken its toll on him, and his fine balancing act has come unstuck. When he visits his psychiatric clinic, he just gets given more drugs.
At home, his mother (Juliet Cowan) is worn out with it all, and away from the home, JJ can see his friends coming apart at the seams. With Effy (Kaya Scodelario) at such a low ebb, and the chance discovery of Cook (Jack O'Connell), Freddie (Luke Pasqualino) and Pandora's (Lisa Backwell) secrets, he feels the burden to be overwhelming. But an unlikely member of the gang – Emily (Kathryn Prescott ) – proves to be the true friend at his time of need.
Episode Title: JJ
Air Date: 2009-03-05
Year: 2009